Elkhart Lake, WI (August 9, 2017) – Wet and threatening weather was the theme of the weekend as the Motorsports in Action (MIA) / Pfaff McLaren team visited Road America for round seven of the Continental Tire SportsCar Challenge in Wisconsin.
Driver Jesse Lazare was looking to add to his four-straight wins from previous visits, while Chris Green, Pfaff national brand manager for McLaren, was revisiting the track for the first time in 16 years, bringing him back to the home of his first driving school.
From the first practice, Lazare and Green were met with strong winds and heavy rains that saw numerous competitors struggle for grip, and caused plenty of minor incidents ahead of Saturday's race.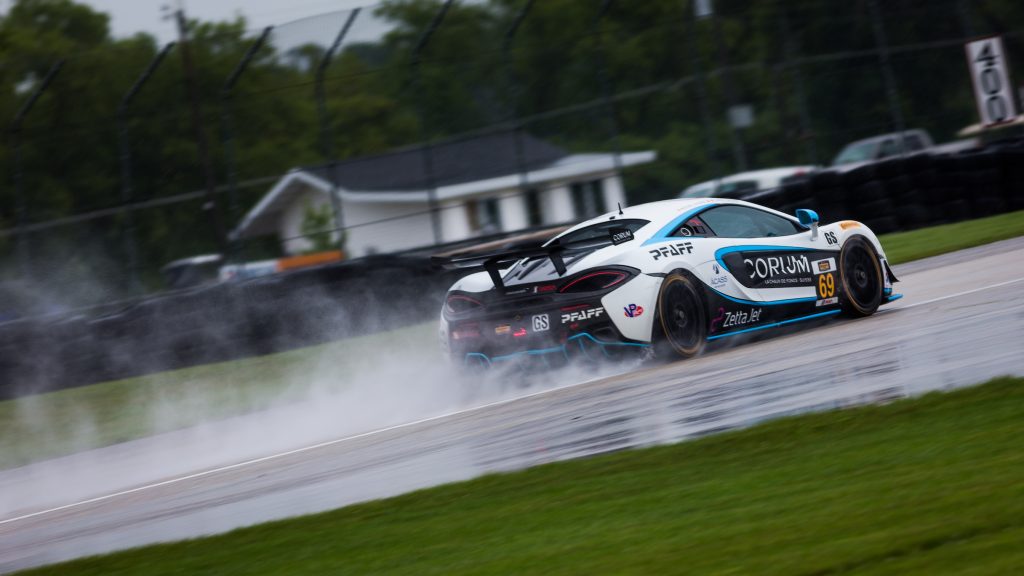 In the wet conditions, the McLaren 570S GT4 came alive and both drivers set their times consistently amongst the leaders throughout each practice, topping the final two sessions before going into a dry qualifying, where the balance of performance (BoP) weight additions became more apparent. Despite that, Green was able to qualify the car in fifth position, placing them in a strong position at the undulating 6.5-km circuit.
As clouds loomed on Sunday, Green started the race and was immediately in tight battles with the leaders, but caution flags were quickly drawn due to the changing conditions and incidents around the track.
When the race went green again on lap three, Green pushed his way past a competing McLaren 570S into fourth, where he found himself battling until it was Lazare's turn behind the wheel.
Making the driver change during a flawless pit stop, the MiA x Pfaff team jumped back into fourth, with Lazare putting in a quick lap right away.
But, as had been the case all weekend, the looming cloud front quickly stormed in, dropping torrential rains and air-to-ground lightning that immediately drew red-flag conditions, forcing the teams to park in the pits and await further word.